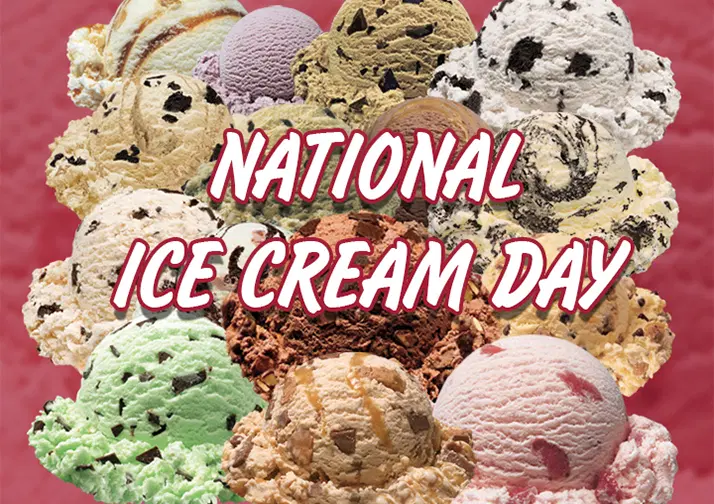 National Ice Cream Day is just around the corner, and what better way to celebrate than indulging in a scoop (or two) of your favorite frozen treat? Mark your calendars for July 16th, 2023, and get ready for a day filled with creamy, dreamy goodness.
Ice cream has always held a special place in our hearts and our stomachs. It's the perfect antidote to hot summer days, a sweet escape from reality, and a nostalgic reminder of childhood joys. And on National Ice Cream Day, it's time to honor this beloved dessert in all its delectable forms.
But what makes this day even more exciting is the wide array of ice cream shops that are scattered across the nation. Whether you prefer classic flavors like chocolate and vanilla, or more adventurous combinations like lavender honey or avocado lime, there's a scoop out there waiting to tempt your taste buds.
One city that stands out for its thriving ice cream scene is Chicago. Known for its diverse culinary landscape, the Windy City is home to a plethora of ice cream parlors and shops, each offering a unique twist on this timeless treat. From artisanal gelato to indulgent sundaes, there's no shortage of options for ice cream lovers in this city.
In this blog, we will shine the spotlight on some of the best ice cream shops in Chicago, sharing their locations, contact information, and most importantly, their standout flavors. Whether you're a local looking for a new favorite spot or a visitor eager to experience the city's culinary delights, this guide will help you navigate the abundant choices and find the perfect scoop.
Prepare to tantalize your taste buds with the inventive flavor combinations and whimsical creations served up by these top-notch ice cream establishments. From the iconic cone of The Original Rainbow Cone to the artisanal creations of Jeni's Splendid Ice Creams, we'll cover it all.
So join us on this virtual tour of the best ice cream shops in Chicago and get ready to celebrate National Ice Cream Day in the most delicious way possible. Discover new flavors, indulge your sweet tooth, and make memories that will melt your heart. It's time to savor every spoonful and make the most of this ice cream lover's paradise.
1. Jeni's Splendid Ice Creams
Address: 3404 N. Southport Ave, Chicago, IL 60657
Phone: (773) 348-7139
Website: https://jenis.com/locations/chicago-southport/
Best flavors: Brambleberry Crisp, Salted Peanut Butter with Chocolate Flecks, Brown Butter Almond Brittle
Famous for: Using high-quality, locally-sourced ingredients and unique flavor combinations
2. Margie's Candies
Address: 1960 N. Western Ave, Chicago, IL 60647
Phone: (773) 384-1035
Website: https://margiesfinecandies.com/
Best flavors: Turtle Sundae, Mint Chocolate Chip, Cherry Chip
Famous for: Serving nostalgic sundaes and hand-dipped ice cream since 1921
3. The Original Rainbow Cone
Address: 9233 S. Western Ave, Chicago, IL 60643
Phone: (773) 238-7075
Website: https://www.rainbowcone.com/
Best flavors: Rainbow Cone (a combination of chocolate, strawberry, Palmer House (New York vanilla with cherries and walnuts), Pistachio, and Orange Sherbet)
Famous for: Their signature Rainbow Cone and being a Chicago institution since 1926
4. Black Dog Gelato
Address: 859 N. Damen Ave, Chicago, IL 60622
Phone: (773) 235-3116
Website: https://www.blackdogchicago.com/
Best flavors: Goat Cheese Cashew Caramel, Cucumber Rosewater Sorbet, Mexican Hot Chocolate
Famous for: Artisanal gelato with unique and adventurous flavors
5. Margie's Candies Uptown
Address: 1813 W. Montrose Ave, Chicago, IL 60613
Phone: (773) 348-0400
Website: https://margiesfinecandies.com/
Best flavors: Hot Fudge Sundae, Banana Split, Butter Pecan
Famous for: A historic ice cream parlor with vintage charm, offering indulgent sundaes and homemade chocolate
So grab a cone, scoop up some memories, and indulge in the sweetness of National Ice Cream Day! Whether you're enjoying a classic flavor or trying something new and adventurous, let this day be a reminder to savor life's little joys. Share your favorite ice cream memories, flavors, or recipes below and let's celebrate this delightful holiday together! 🍦❤️ #NationalIceCreamDay #SweetIndulgences