Wrigleyville is a nickname given in 1914 to a neighborhood within the Lakeview community in Chicago, Illinois that surrounds the historic Wrigley Field, which is home to the world-famous Chicago Cubs Major League Baseball team.
About Wrigleyville in Chicago's Lakeview Neighborhood
Wrigleyville is a nickname given in 1914 to a neighborhood within Chicago's Lakeview community. It surrounds the historic Wrigley Field, which is home to the world-famous Chicago Cubs Major League Baseball team.
Wrigley Field is also the second oldest active baseball park in the U.S., following Boston's Fenway Park, which had its grand opening just two years prior.
When not hosting sports games (the Cubs aren't the only team to have occupied the field!), you can find a variety of concerts and special events year-round.
Wrigley Field was once the site of a seminary, and the area grew to become a working-class neighborhood. Then it became home to sports, causing it to evolve into a bustling community with a whole lot of team spirit.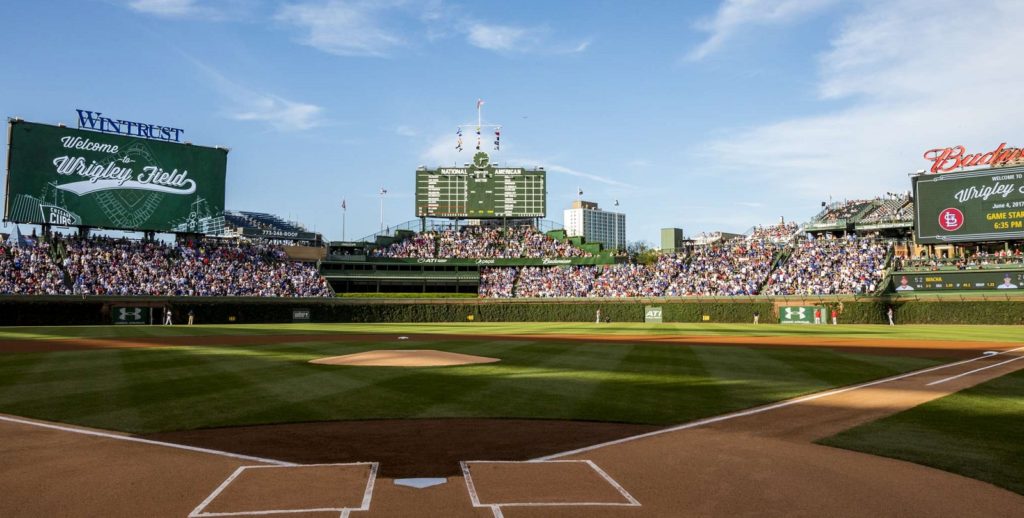 Lake Michigan is also a focal point for the Wrigleyville neighborhood in Chicago, providing an array of outdoor and water-based recreation.
The Wrigleyville area is now a popular tourist destination, college town, and home to young professionals. It's peppered with sports bars, souvenir stands, restaurants, and more. New construction and developments are springing up throughout the neighborhood, there's plenty of places for families to call home.
Homes for Sale in Wrigleyville
About Wrigley Field
Designed by Zachary Taylor Davis and his brother Charles G. Davis, Wrigley Field, the then single-story, 14,000-seat stadium, owned by Charles Weeghman, was constructed on Chicago's Northside at the corner of Clark and Addison.
The park was built in 1914 and opened as Weeghman Field, which it was called until 1920. The Chicago Cubs major league baseball team moved into the venue in 1914, prompting its new name, Cubs Park, which lasted through 1926. Today, the park is also dubbed as "the Friendly Confines."
The first National League game at the ballpark was played, April 20, 1916, when the Cubs beat the Cincinnati Reds 7-6 in 11 innings. A bear cub was in attendance at the game.
The ballpark became known as Cubs Park in 1920 after the Wrigley family purchased the team from Weeghman. It was named Wrigley Field in 1926 in honor of William Wrigley Jr., the club's owner.
The Wrigley Field bleachers and scoreboard were constructed in 1937 to improve and expand seating. The original wooden scoreboard remains intact.
The score, innings and the pitchers' numbers are changed by hand. The numbers signaling batter, ball, strike and out, along with "H" and "E" to signify hit and error, are unique in this regard.
No batted ball has ever hit the centerfield scoreboard.
Wrigleyville's Vibe
By day, you'll find plenty of areas for retail shopping, particularly in the nearby Southport Corridor. By night, the area transforms with live entertainment, pizza places and bar hopping. But no matter the season, day or night, the area is bursting at the seams with team spirit and love for the Cubs.
Wrigleyville also has a variety of parks, farmers' markets, festivals, music, and other activities.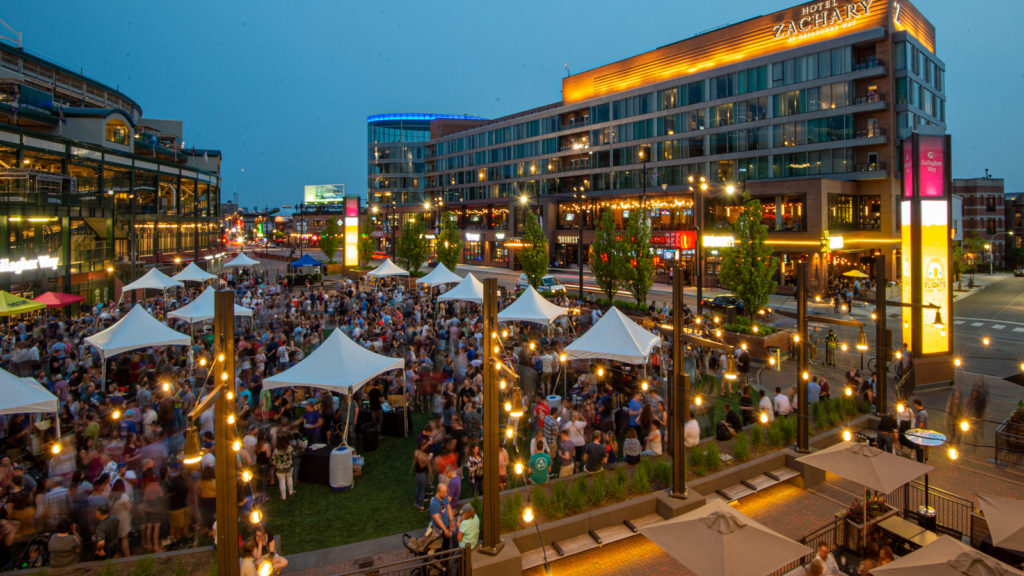 Public Transportation Around Wrigleyville in Chicago
Wrigleyville is super accessible for walking, bicycling, or public transportation. The Chicago Transit Authority has a train stop on the redline right there, at Addison. The CTA also provides service via several bus routes in the greater Lakeview area. Of course, you can always drive there too.
Out of town guests and visitors can get to Chicago, then Wrigleyville, via the O'Hare International Airport.
Living in Wrigleyville
Although game day boosts foot traffic, filling the neighborhood with raucous cheer and team pride, the non-game days are mostly quiet and peaceful, making it a great place to live.
Students attending both public and private award-winning schools in the Lakeview area.
Wrigleyville is nestled in the heart of Lakeview, which boasts a community of over 100,000 strong. Old-timers may quarrel on the exact boundaries, but generally speaking, the community is anchored from Fremont to Southport, Roscoe to Irving.
Wrigleyville's real estate consists of low-rise brick buildings, condominiums, and single-family homes. Some of these buildings are historic, such as the Alta Vista Terrace District, and others are modern new construction. There is constant growth and development though. So stay tuned for the newest homes coming to market.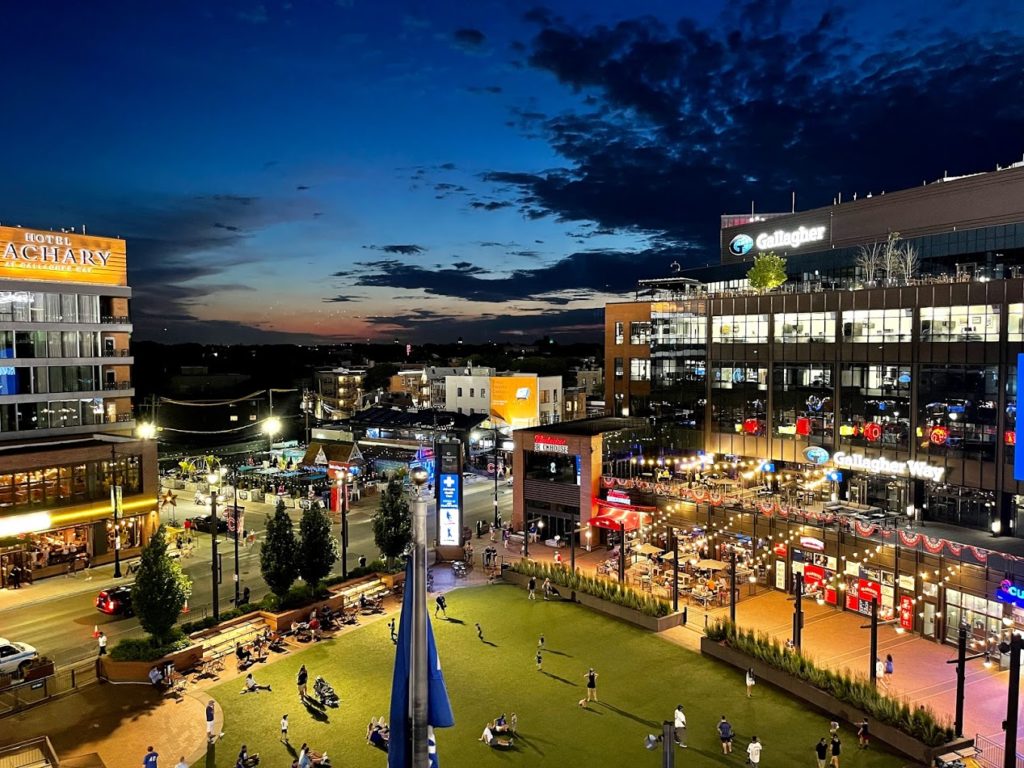 What makes some of these residences unique is the rooftops, a custom place purposefully designed with bleachers on top of a building where people can buy seats to watch games and concerts with full seat-side, all-you-can-eat food, and beverage service.
Houses in the area hold median values of around $875,000, or at an average of $398 per square foot.
The median annual household income in Wrigleyville is estimated at $123,156, significantly higher than the national median household income of $78,500.
Divider:
Conclusion
Wrigleyville is a neighborhood with a distinct character. Centered around Wrigley Field, the area is full of spirit for the Chicago Cubs baseball team and also for the community itself.
The neighborhood offers a wide variety of restaurants, bars, pubs, nightclubs, shops, and a plethora of things to do. It also offers convenient public transportation, excellent schools, and, there is magic in the air year-round whether or not you are a sports fan.
That makes this an ideal place to live, work & play, especially if you've got access to a Wrigley rooftop! Come visit. Make some memories. Take in the magic of this community. You'll be really glad you did.
Have Questions? Ask The Montaño Group
Give Roberto Montaño a call today to learn more about local areas, discuss selling a house, or tour available homes for sale.